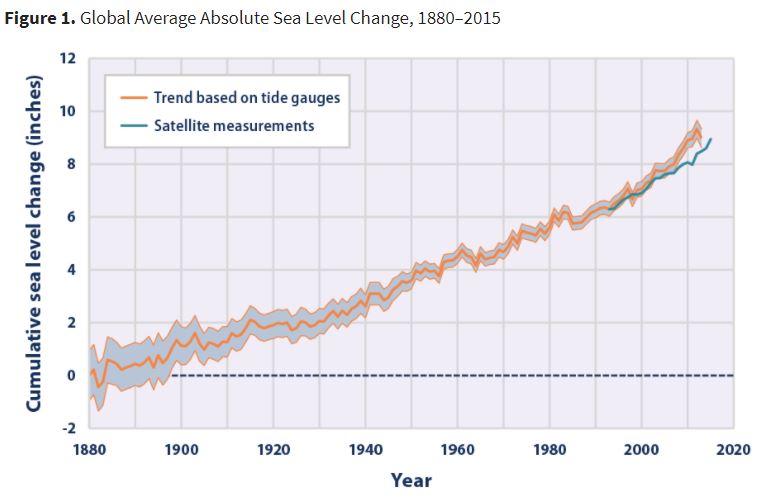 3 mm per year ocean rise. Minimum 2.2 mm max 3.3 mm/year.
Rising Sea Levels
It is said the sea level is rising. This is technically true. (See the blue line satellite data continues on the same slope as previous data.)  About 10 inches since 1870.  As the oceans rise the surface area expands and the evaporation rate increases due to warming oceans and dilution of glacier water. The increasing evaporation is mitigating all the ocean rise due to glacier melt.  This increase is also responsible for increased weather and storm clouds. Previously the clouds blocked 20% of the sun's energy from warming the earth. Now that is increasing with more clouds and soon the temperature increase will stabilize. 
Just as one data point does not tell the global data. We are now working with Sea Surface Height science team in the NOAA Laboratory for Satellite measurement.  We have the RADS software (Altimetry data are provided by the NOAA Laboratory for Satellite Altimetry) installed on or server made Graphs by each 10 degrees latitude.  The graphs we made show approximately the same rate of rise at each latitude. ocean rise This means increased evaporation is mitigating all ocean rise due to Glacier melt.This is the same we did for Atmospheric CO2 and Temperature. You can see these graphs on the data page. 
Since 7/10/2018 Have seen this page.